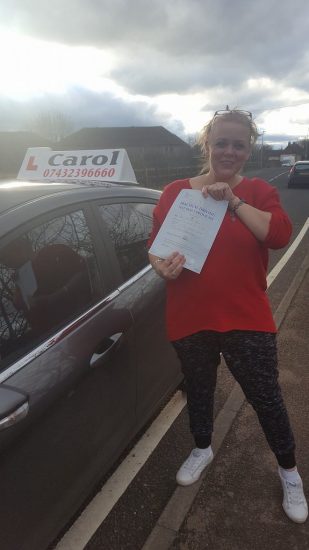 When I chose Carol as a driving instructor I had absolutely no confidence in driving. I would shake and be anxious every time driving came around. She had so much patience with me, she was very good at reading how I was feeling and would work the lessons around this. I cannot recommend Carol highly enough. The confidence I had towards the end was somewhere I once could only picture myself to be…I'm almost sad that my lessons are over! So thank you very much, I can't thank you enough!
Very happy to be on the road!
I couldn't recommend Carol enough as an instructor. Having failed a number of tests with another driving school, I used to dread lessons and feel nervous about driving. Learning with Carol was a breath of fresh air, she made me feel so relaxed and got me passed on the first test I did with her! At one point I thought I was never going to pass, so thank you Carol for everything, I will definitely be recommending you to everyone.
Passed On First Attempt (WITH Me!)